Worcester VS Vaillant Boilers
Over and over, the battle for top boiler comes down to two brands, Bosch and Vaillant. Both brands are consistently coming out top in both customer satisfaction surveys and engineer recommendations. When it comes to choosing, it is a very close call, this article will give you a bit of an idea.
Worcester Bosch Greenstar cs Vaillant EcoTec
When comparing boilers it makes sense to pick 2 boilers that are realistically comparable. We have picked two wall-mounted 25kW gas Combi boilers. Both are recommended for flats or small houses with one bathroom and up to 10 radiators.
Combi boilers are recommended for smaller houses with single bathrooms as they heat water on demand. For larger houses, where there is more demand for hot water, a cylinder or tank is needed to store hot water ready for it to be used.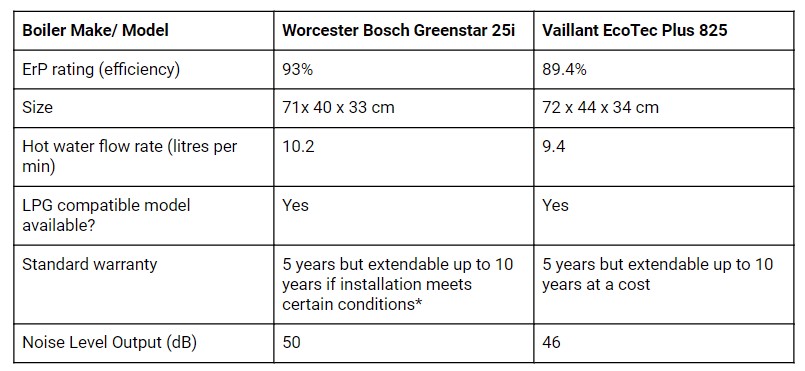 Bosch boilers need to be installed by an accredited boiler installer and fitted with Worcester Bosch official filters and controls and serviced annually by a Gas Safe registered engineer.
Price
Price is usually the burning question on everyone's lips. Vaillant boilers do come in a little more expensive, but there is not much in it. The Worcester Bosch falls between £750 – £875 and the Vaillant costs roughly £1000 – £1050. This doesn't include boiler installation costs, so you need to factor these in also.
The Verdict
It is a close one, the two brands are so closely matched, so it is difficult to declare a winner as such. However, Worcester Bosch slightly takes the edge. As well as being a smidgen cheaper, there is also the option of an extended warranty, at no extra cost, as long as it is installed by an accredited installer.